Town and Country's Cat Hotel is now open.
Our cattery has been designed with safety, comfort and enrichment in mind.
If having other cats around is stressful for your cat they can be accommodated in a self-contained apartment.
Feliway pheromone diffusers are used to reduce stress, and we play iCalm cat music to aid relaxation.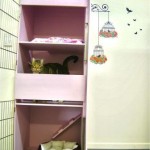 For bookings call 09 294 8779.