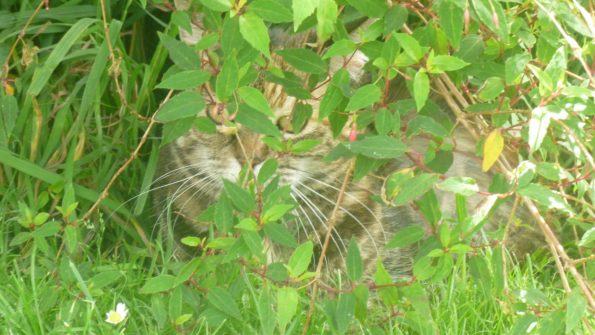 Every morning, Annie gets up, has a quick cup of coffee, puts on her warmest clothes and drives along to the park entrance where she feeds a colony of around 30 cats which has been there for years. Nobody pays Annie to do this and most of the food for the cats is paid for from her pension, though sometimes there are donations too.
The cats recognise Annie's blue car and will come near her, but never close enough for her to catch. She traps the cats and they are taken to the vets to be desexed and marked before being released back again. Occasionally, she will catch a kitten or two which can be tamed and rehomed.
You see, this is the depressing result of not having cats desexed. A couple of kittens will escape from an unplanned litter and a colony will form. These colonies are the reason people like Gareth Morgan would like to see ALL cats banned in New Zealand. Sadly, the cats are inbreeding and spread diseases as they are also unvaccinated. Wonderful people like Annie do their best to help, but time and resources are limited.
There are widely differing views on how to manage stray cat colonies, and the trap-neuter-release system is the most common, with the aim of reducing the population with no new cats moving in.
So what can you do?
First and foremost, desex your cat. If you are unsure of how this will affect your cat, talk to us. If cost is an issue, ask us about the ways we will help you.
Microchip your cat. That way if it does go missing, and we find a stray, we can reunite you both.
Spread the word. Encourage neighbours, friends and family to desex their cats. There are NO benefits to not doing it!
Adopt, don't buy! Adopt the strays from rescue organisations. There is usually a nominal fee associated with adoption which covers vet costs.
And here's how we can help you:
Remember June is the month of our 'Jumbo June Cat Desexing Package'!
Which means for the cost of a standard $120 spay or $79 castrate, you'll also receive:
FREE microchipping and registration with the national database (valued at $59.50)
FREE overnight voucher for our 5-star cat hotel (valued up to $25)
FREE premium nutritious food sample (valued at $3.60)
FREE little thank you treat for being a loving owner (your love valued at… priceless!)
So, call us today on 09 294 8779 and get your cat booked in. Bookings are essential as these appointments are popular. Together, let's give animal angels like Annie some well deserved sleep ins.