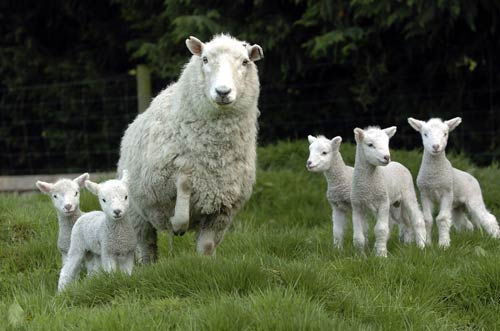 Flossie is feeling excited because in a few weeks her lambs will be born.
Nothing beats the sight of her cute little lambs playing in the paddock alongside the other little lambs and when they run back to her for a quick drink and cuddle… well…  that almost makes her burst with joy.
But as a caring, expectant Mum she knows 5 things need to happen before she lambs:
3 weeks before her lambs are due she needs to be given a 5-in-1 vaccination injection to guard against diseases which could harm her. This injection also gives her lambs immunity against the same diseases when they drink her colostrum.
If she's woolly around her udder and vulva she needs her bottom crutched. This helps her stay clean and hygienic while giving birth and provides her lambs with easily accessible teats.
If her wool is long and heavy she needs to be shorn. This helps prevent her from getting stuck if she lies down which can affect her circulation and potentially hurt her lambs (note: ideally shearing should be done between 50-100 days after being with the ram).
Since she's close to lambing, she needs to be in a paddock with heaps of shelter and the very best food,  to ensure she's getting all the correct nutrition.
Since she's close to lambing, she needs her owner Mary to check on her several times a day to observe if something isn't going as it should, so her vet can arrive and assist in time!
Now in stock:
The 5-in-1 vaccinations, which are dispensed individually and need to be kept in a fridge until used.
Making it simple for you:
Call us today on 09 294 8779 and we'll make up your vaccination  in advance, so it's waiting for you to pop in quickly on your school run or if you're driving by.
We'll do everything possible to keep Flossie and all her pregnant sheep sisters healthy and happy this lambing season – all you need to do is just ask.
Oh, and speaking of asking… we'll happily recommend a good shearer too if you need one.